Client: A leading Kitchen Appliance/Food Processing Equipment Gp
Project: 360º Custom Retail Merchandising Solution
Market: Singapore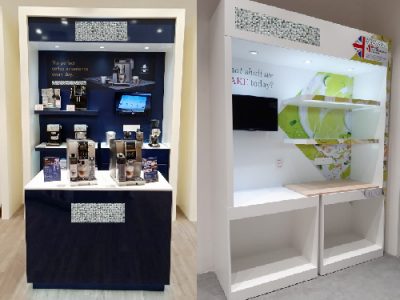 Previous
Next
OBJECTIVE
To create and operate an eco system for brands to rapidly deploy concept corners, pop up stores/events & private events in the most efficient & effective manner. And to provide brand the compeitive advantage to move into market fast while maintaining qaulity outcomes.
CHALLENGE
1. No existing system to inherit from.
2. Assets available of mostly out dated and/or in poor physical conditions.
3. Large number of demo machines with unknow conditions/qty.
4. Little visiblity on the road map ahead.
5. Short lead time to commence first series of events.
APPROACH
1. Defining requirements , needs and expectation with customers.
2. Put together multi discplinary team of Account Managers, Designers, Operations experts , Production experts & project managers to support the establishment and operating of the Eco system.
3. Creation of Branding guide & VM elements that supports the desired customer experience and brand messaging needs.
4. Accounting and curating existing inventory of VM element & demo units.
5. Creation of Asset management system to manage inventories.
6. Creation of operating template procedures for the various activites with customer.
7. Implimentation, execution and Routine to enhancement of various system according to learnings & market needs.
OUTCOME
1. Sucessfully executed over 100 projects and creation of over 60 VM elements types over 24 months.
2. Clear accountability of assets and upkeep of VM elements and Demo machines.
3. Clear understanding of work flow and output expectations with all stake holders.
4. Roll out of Band Retail guide & purpose build VM elements to support marketing needs.
5. Significant enhance deployment speed and reduction of errors.
6. Significant overall cost saving over the 24 months.
7. Customer satisfaction and expanding of scope to other markets.